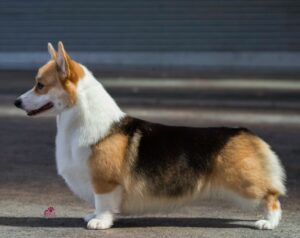 SIGGEN'S QUEEN OF SPADES
NORSK VETERAN CH, JUBILEUMS VW-23, NORDIC VW-23, EUVW-23, WW-17,
GB.CH. CIB.CH. HR.CH. N.SE.DK.SF.NORD. CH. JWW-13. DKV-13, 14. SEV-13,14. NV-14. NORDV-14, SEW-17, NVW-20,23, NW-20
and Crufts winner 2014:
Dette brevet fikk vi fra England i slutten av januar 2020.
Dear Mr and Mrs Wilberg,
I hope you're well.
I am writing on behalf of the Kennel Club's Marketing Communications team who oversee the marketing, social and PR for Crufts.
We're currently in the process of producing a new YouTube show called Crufts EXTRA which will be presented by UK TV presenter Scarlett Moffatt.
One of the areas we are keen to explore on the show, is the heritage of certain pedigree dogs and after some researching by Glen in our team we have identified that your dog "Queen Of Spades" is a direct descendant of Windsor Quiz of Ermyn who was bred by Her Majesty; Queen Elizabeth II – which is amazing!
We were wondering if you are attending Crufts this year with Queen Of Spades? And if so, would you be interested in being interviewed on the show with Queen Of Spades, it was be an informal piece, a natural conversation around the breed and why it's incredible that we can trace the heritage of pedigree dogs through their pedigrees. 29
If interested, I can send you across more information.
I look forward to hearing from you,
Many Thanks,
Kieran Stanbridge
Senior Social Media Officer
T: 0207 518 1008
The Kennel Club, Clarges Street, London W1J 8AB
www.thekennelclub.org.uk
Det viser seg at gjennom pappa:
Int. GB.RUS.Multi.Ch WW08, EuW11 Andvol Ya Tvoy Kumir sin farmors side, er «Kikki» 5 generasjon avkom etter Dronning Elisabeth II`s oppdrett Windsor Quiz at Ermyn.
Ettersom det er flere Kumir avkom her i Norge synes vi at det er morsomt å fortelle dem at de har en royal avstamming!
Mvh
Kennel Siggen